This is an annual event in Thames featuring Wargaming, Board games, D&D, Magic, Scrabble, and lots more.
Games at the recent 2016 New Zealand Mindsports Festival ranged from classics like chess and bridge, to more recently invented games such as squabbles and duelling samurai. The full list of games included: – Backgammon, Bridge, Chess, Checkers, Dungeons and Dragons, Duelling Samurai, Five Hundred, Go, Magic: The gathering, Scrabble, Squabbles, War gaming, Malifaux, Texas Hold'em Poker and Believe it or not quiz night.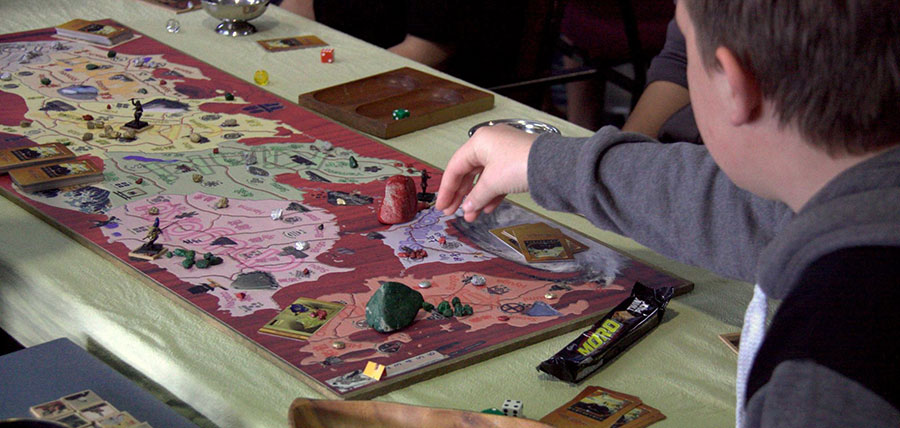 Scrabble
Did you know? The highest possible score in scrabble can be gained by playing the word oxyphenbutazone – but the chances of being able to play this word are similar to the chances of winning this week's lottery, so don't hold your breath. Instead, try for Qi, the most played word in scrabble tournaments in North America.
War Games
Wargames are tabletop strategy games, often based on historical events. Ever since the 1950s these tactical games have enthralled players due to their beautiful intricacy and captivating gameplay.
To play a wargame, two or more players battle against each other with figurine armies on a tabletop terrain. Foresight and careful planning is essential for victory in this miniature world of war. Will you be the one to lead your army to victory?
Malifaux
Malifaux is a steampunk twist on tabletop skirmish gaming. Set on an alternate Earth, the world of Malifaux is fraught with danger as opposing factions fight for control of a magical portal between Earth and a world of limitless magic.
As a player of Malifaux you lead a crew of characters in their quest to obtain Soulstones and beat your opponent. Game events are resolved by cards from a Fate Deck – but fate can be cheated, and you can manipulate the cards to work in your favour.
Duelling Samurai Game
The Edo period of Japan between 1603 and 1868 is renowned for many things, as well as an enjoyment of beautiful art and culture. This is evident in Richi Morita's game 'Dueling Samurai' which is based on this part of Japan's history. Mindsports is proud to be hosting this historical and challenging board game!
Dueling Samurai is a game of strategy, foresight and patience. You start in control of one region of Japan and must use samurai to battle for the land of other regions against the other players, all while weathering random events such as plague and storms.